When I decided to have a trip spontaneously, I had to choose any area to head to.

Suddenly, I came to think about waterside area again which I should go to in Germany.
Hamburg was too far to afford in a matter of time at the time. So I thought like, how about Konstanz? I booked a place to stay for few days right away.

After packing off stuffs at hotel, I searched any information about where to go and what to do.
But sadly, (kind of ) I am not a type of planning and moving around by the plans. So, I was simply walking around first around the area of where I was staying. I bought some food and tool a walk nearby lake.
After eating some, I figured out there is a good spa and therme nearby our staying.
As I am huge fan of sauna and spa, I decided to go experience how it would look like.
The place is called Bodensee-Therme Konstanz.
It has outdoor warm pool in winter (I went there in winter season.), various sort of sauna, lots of spa service with friendly atmosphere. I especially enjoyed below pooling on below picture.
Ah, for people who never heard or experienced of German sauna culture, Traditional style to enjoy sauna is like, all people should be naked in the sauna and gender does not matter to be in the same sauna naked. Saunas are usually mixed-gender, but single sex are occasionally offered. Larger spas have several kinds of saunas so you can build up to the hottest temps in different soothing saunas with cool down periods in-between. Germans will firmly tell you this is for your heath as you alternate between teeth chatter stewing in your own sweat.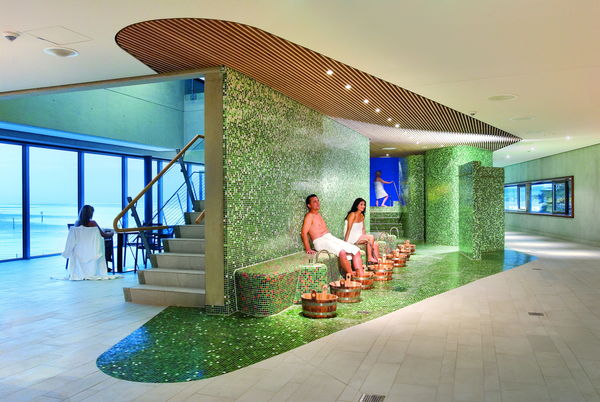 I also enjoyed outdoor warm pool, but had to get our there soon because my boyfriend stared feeling allergic reaction from chemicals in the water. He has sensitive skin, therefore, I warn you people who have the same type of skin like my boyfriend's. I was totally fine, though.
As the result, I went there 2 more days in a row. Well, I can even say that all I specially did there is this therme since I experienced on the first day. 🙂