Gosh, Recently, I have been so into getting icy and platinum Blonde hair that I have never done before.
Of course, I have wanted to try that hair but was too much to do so at the time. As I have very dark brown hair like black, It take so much time and effort for it.
But you know what, I have decided to go for it. I already bleached hair 2 times to get reached to desired level. You can have a look on my previous post when I bleached hair first time to get platinum blonde recently. I am going to post about further outcomes soon, because it is not done yet.
Anyway, to get perfect color that I want, I got an information that bleaching is sometimes not enough to get it. To get helped, I have found that there is various type of shampoo in special function for blondes and popular brand of hair products including the shampoo is "Fanola".

Reviews said that Fanola is the best on its working, so I decided to buy to give it a try.
I have also found out that there are the most famous 2 type of hair products of it, which are called No Yellow and No Orange.
But I mean, what do I have to choose to get color I want from current condition of my hair?
---
What's Fanola No Orange Shampoo?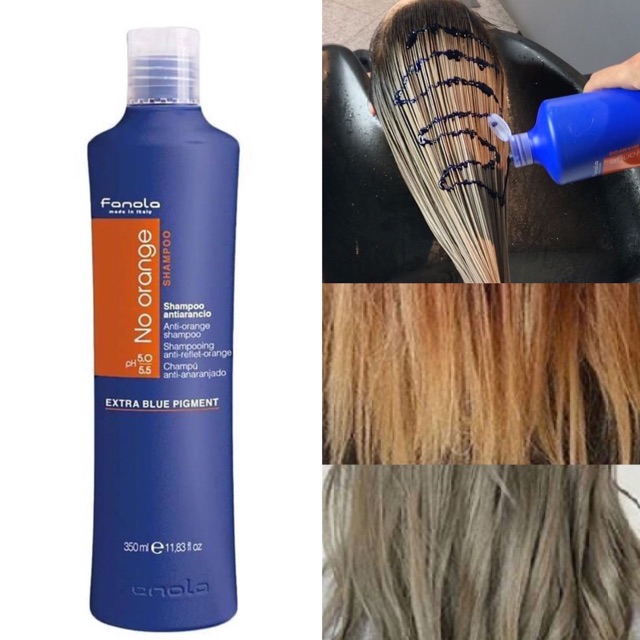 You can now say goodbye to dry and unwanted red, copper, and orange tones thanks to this highly potent toning shampoo. How? Fanola's No Orange selection contains blue pigments that gently cleanse hair while neutralizing and eliminating any undesired warm red tones that come with the dyeing process.
The formula is sulfate-free, silicone-free, and is armed with botanical oils and coconut extracts that enhance colour-treated hair while cleaning it.
This powerful blue-toned shampoo will enrich and hydrate darker shaded dyed hair for a silkier and softer finish. Its fast-acting ingredients bind warmer color shades to the hair, thus balancing out pH levels and canceling out the unflattering vibrancy in orange or red tones.

Click Below Fanola No Orange Shampoo and Mask Products If you would like to buy!
---
What is Fanola No Yellow Shampoo?
Fanola No Yellow is a purple shampoo explicitly made for blondes – natural or lightened light blonde hair. This toning shampoo comprises of high violet pigments that remove any unwanted yellow tones to create lusher and shinier silver and ash tones in the hair.
This concentrated formula is paraben, sulphate, and silicone-free for better colour protection. Additionally, it's filled with elastin proteins and amino acids that aid in strengthening and replenishing hair.
Fanola No Yellow professional-grade shampoo will give your hair vibrancy and shine that will actually last! This cruelty-free and ethically-sourced hair care product will treat your hair, nourish it, and banish brass, leaving it silky with no yellow in sight.

Click Below Fanola No Yellow Shampoo and Mask Products If you would like to buy!
Who has more fun – Brunettes or Blondes?
For many years, blondes have turned to purple shampoo such as Fanola No Yellow shampoo to keep that pesky brassiness at bay. Now, thanks to blue shampoos such as Fanola No Orange, brunettes and darker blondes can finally join in on the joys of hair dyeing!
No Yellow shampoo is best suited for colored hair with lighter tones such as white, silver, or platinum shades while No Orange shampoo works best to remove brassiness in darker blondes and brunettes.
Simply put, Fanola No Orange shampoo works for darker hair shades the same way Fanola No Yellow works for lighter hair colors.
---
Authentic Grace Me's Blog is a participant in the Amazon Services LLC Associates Program, an affiliate advertising program designed to provide a means for sites to earn advertising fees by advertising and linking to Amazon.de.
---
Reference

Fanola Image and Information from :
https://fanolaofficial.co.uk/news/difference-between-fanola-no-orange-and-no-yellow-shampoos/

---
If you enjoyed Posting, Like and Share the Post and Subscribe My Blog!