---
---
Another Weekend is coming soon! I am about to visit flower shop again to get some plants and lowers for home decor. Tulip and Sunflowers that I bought last weekend is almost all dead which is sad.
Since I live by my own apart from my family having my own apartment, I came to have a huge interest in Home Decor. I think this always cheers my mood up whenever I come back home or while I am at my place. Besides that, I am basically enjoying decorating things with my taste which even helps me reduce stress level. Home Decor can't go wrong.
With green items, You can maximize effects that you want to get from Home Decor. I deeply feel necessity of Green every single time trying to design comfy but stylish image. It is not only because I go for green to be Eco-friendly but also because It feels better than artificial plant item. A Simple Fact, Fakes never defeat Genuineness.
I am going to share you what kind of plants and flowers I have considered so far for lovely Home Decor.
---
1.Cactus
If you are kind of lazy taking care of plant and not sure to keep them alive, Cactus is the best choice for you. You can get gorgeous view of your living space with less caring. I don't really want to prove myself, but I am also one of them. But why embarrassing, those are just pretty!
---
2.Tulip
From my experience, Tulip makes graceful image of space such as dining room. If you would like to add up various colors onto green, tulip would make it possible. It is also good for decorating for any special event at home. Fancy mood and lively atmosphere are what you will get from it.
---
3.Sorts Of Sunflower
This gives your home much cheerful atmosphere. I once bought orange colored- false sunflowers to decorate kitchen table in dining room. Result was more than satisfying. Sorts of sunflowers have diverse colors, you can check it out for your own taste.
---
4.Mix Of Little Plants
Cute little plants makes synergy effect when being combined each other. With mini sizes, it could brighten various space of your whole apartment being moved whenever you want. Healthy and clean mood with hose would long last.

Species related are Cast-Iron Plant, Cactus, Aloe Vera, Air Plant, Jade Plant, Echeveria, Peperomia and so on.
---
5. Long and Hanging Plants
To talk about why hanging plants are attractive, It creates stylish and classic atmosphere, I would say. With this type of plants, you could be in Home garden mood much more when without it. I recommend to put it in a balkony or living room.

Species related are Ivy, Heartleaf Philodendron, Pothos, Creeping Fig and so on.
---
6. Big Size Plants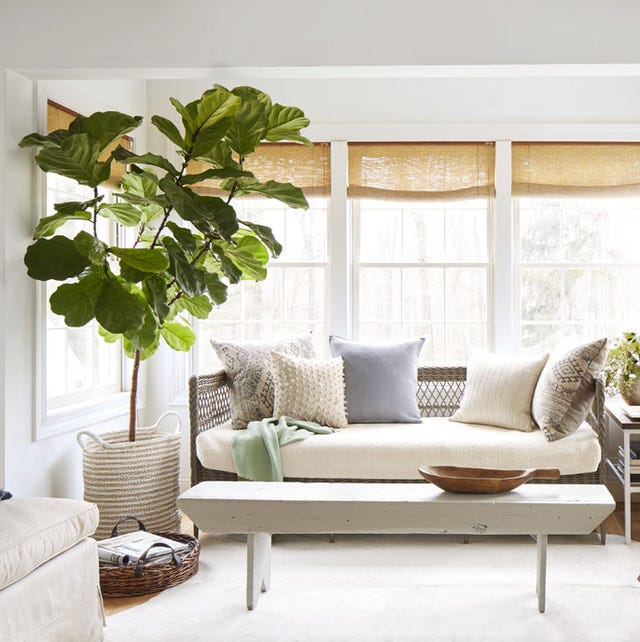 This type of plant is what I am going to try soon. I guess it has an effect to make space look wider with clean atmosphere. I recommend to put the type in living room next to couch or bedroom. Stylish and Cozy mood that big size plants specially have should be set in the place you stay for chilling and taking a rest most of the time.

Species related are Areca Palm, Corn Plant, Kentia Palm (Howea Forsteriana), Lady Palm (Rhapsis Excelsa), Yucca (Yucca Elephantipes) and so on.
---
Additionally, if you would like to get inspired more, you can visit this link The Best Large Indoor Plants: Trees and Plants That Make A Statement. You will get advanced information regarding of indoor plants and gardening.
---
---
If you enjoyed Posting, Like and Share the Post and Subscribe My Blog!