Concealer can come in different colors, and the main ones to look out for here are yellow based ones that will help even out skin tone, while a green-based option can help reduce redness.
When covering spots, put a tiny amount on either a small brush or your fingertip and dab on the spot gently. Concealers are also a great choice for masking any discolourings or redness.
I brought Top 3 Blemish Concealer Information from popular brand that you guys already know. No-ad based, but from my experience and one from people around me.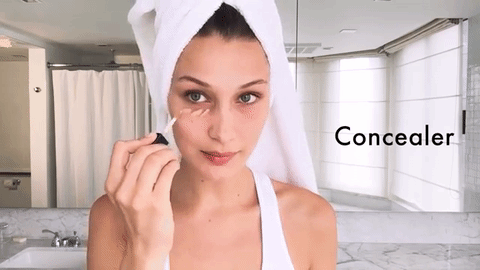 1. Bobbi Brown Creamy Concealer Kit
This yellow-based, creamy concealer is first applied to the spot, and then set with the sheer powder that evens out the concealer and keeps it in place. It comes in an impressive 15 shades and is a good one for fairer skins as the palest one comes with a white powder (as opposed to the yellow-based one you get with the others). Containing Vitamin A and E, it's gets points for keeping skin nourished too. Also, this is my favorite one.
2. NARS Concealer
This stick concealer is easy to apply by putting it straight on to the spot. Start with a minimal amount and then build it up depending on how much coverage you need and it will see you throughout the day. It also contains Vitamin E, so it will help moisturise the skin, avoiding dryness. There are nine shades to choose from.
3. MAC Studio Finish Concealer
People found this creamy concealer disguised the angriest of spots, without clogging skin. Apply with a finger or thin brush. The SPF 35 makes it a good choice for those enjoying a bit of sun, and it comes in 15 different shades.
About Using Concealer…

While liquid-based, light-reflecting concealers can be good for under-eye areas due to their re-hydrating qualities, a solid or stick-based concealer can be better for blemishes. You'll get better coverage and the fact they are drier means they will stay put in the face of oils in the affected area.
---
If you enjoyed Posting, Like and Share the Post and Subscribe My Blog!