Ear cuffs are a popular trend in funky, chic jewelry. Best of all, most ear cuffs can be worn regardless of whether or not your ears are pierced.
What is the best for ear cuff is that, Unlike earrings, ear cuffs and wraps do not require any piercings. Instead, they stay put by attaching on the outer edge of the ear's cartilage or by a sturdy wire that wraps behind the ear. These types of attachments allows us to create more elaborate designs than would be possible in a regular earring.
The first ear cuff ever recorded in history, in 2000 BC, was called a Kaffa. It was designed to hug the curve on the outside edge of the ear, and because it put little weight on the ear, could be worn in large and dramatic styles. Ear cuffs continued to be worn over the centuries, and were popularized again during the 1990s grunge period in simple silver styles. They're back – in an unprecedented array of styles and shapes. There's never been a better time to rock an ear cuff.
Nowadays, we can find various kinds of the ear cuff that respond to today's fashion. For example, tribal looking pieces are very popular, but we can also accessorize our ears with very elegant or extravagant ornaments.
Ear cuffs are back and they are so cool so let's explore the possible ways we can wear them.
Now I would like to recommend you various ways of how to style different types of ear cuffs.
I picked Top 4 Possible Ways which would make you to be stylish with ear cuffs in your taste of style. Let's take a look to know the best style for you.
1.Huge Full Size Ear Cuff For Vivid Fashionable Look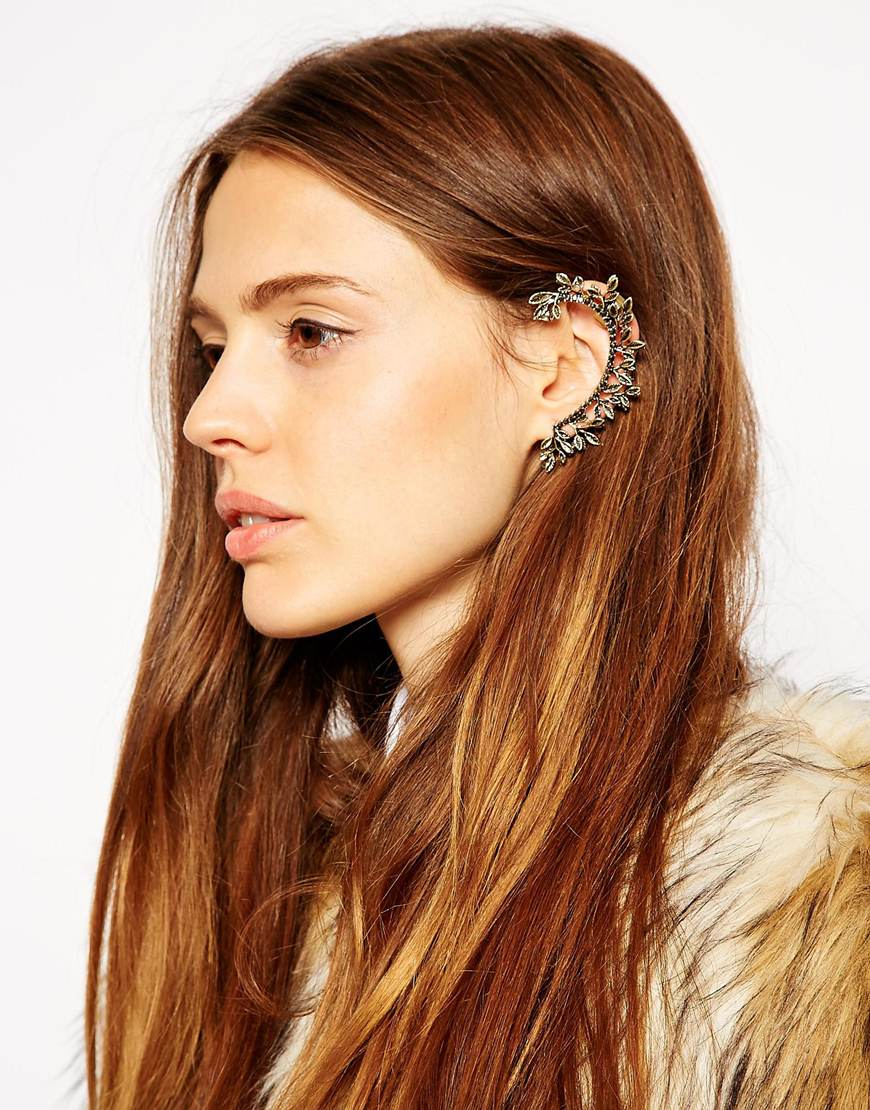 full ear cuff is definitely a statement piece that looks very fashion forward because of its unrealistic size and sublime details. This full ear ornament would give you a very extravagant and edgy look, therefore no matter of your outfit you would still turn some heads.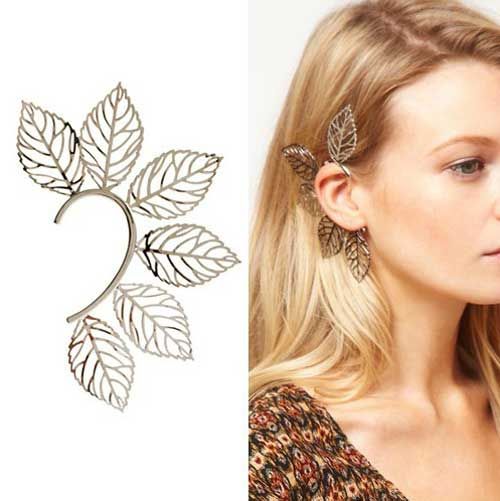 Even though we can select from so many different appearances of these decorative pieces, the full ear cuff is one of the most spectacular ones out in the market because it is an unforgettable staple piece. Whichever way you prefer to style it, either casual, street style or trendy, people would be staring at your daring style.
2. Helix Ear Cuff For Indie-Rock Vibe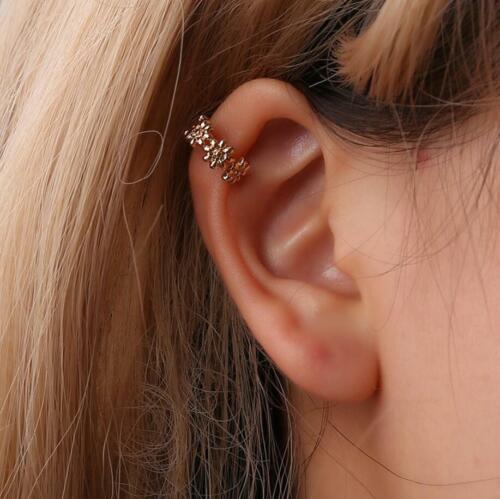 The helix ear cuff resembles the the back clip earrings, that you are probably familiar with, that need no piercing in order for them to be worn. Well, even though the back clips are out of style right now, the good news is that helix ear cuffs are back and they are simply amazing. Also, this style creates fake piercing effect at maximum, so you could wear desired image and styling in the easiest way.
All Images from Pinterest
you can combine one, two or as many helix ear cuffs as you want for a very hipster multi pack effect. The big variety of designs will allow you to play around and see how you want to style your ear cuff. These pieces can give you a very indie-rock vibe, especially if you pair them with some old school sneakers and tight jeans.
3. Double Chain Ear Pin For Hipster Chic Look
Another way to show the world your inner inspiration and desire for fashion is to wear the double chain ear pin for a look that is definitely a conversation piece. There is no doubt that you will be rocking the style if you add such a jewelry to your outfit.

Golden or silver, the doubled chain ear cuff is the one piece you need for your outfit to make it more distinguishable and stylish.
A dazzling fashion piece such as the double chain ear cuff comes in so many variations. You can get a very joyful and fun piece or an extravagant fierce chain that will give your outfit a cool chic vibe.
4. Delicate Ear Cuff For Daily Simple Look
If you don't have any special occasions coming up or you are not a fan of the nightlife, then you can wear a delicate clean design such as this asymmetrical ear crawler, an exclusive product by Happiness Boutique, that will simply accentuate the shape of your ear without being too noticeable and daring.
Images from pinterest
---
Reference
astleyclarke.com/blog/how-to-style-an-ear-cuff
https://www.maisonmiru.com/pages/how-to-wear-your-ear-cuff
https://www.happinessboutique.com/
---
If you enjoyed Posting, Like and Share the Post and Subscribe My Blog!