You've probably heard of the famous Korean skin care routine, but you may not realize that there are plenty of other Korean beauty trends that deserve praise of their own makeup included from bright colored blush to glitter eye makeup.
---
Related Post
SKIN CARE – THINGS YOU SHOULD KNOW ABOUT K-BEAUTY + KOREANS GLOWING SKIN SECRET
---
Korean makeup trends have been dominating for quite some time, and these days it seems like it's not just Asian women who want to know the latest and best makeup trends straight from Seoul.
As far as 2019 Korean makeup trends are concerned, fruity-looking makeup, glitter lids, and glossy lips were in, but will they continue to be trendy in the new year? You are going to figure it out together what is going to be main trends on makeup style in 2020.
I chose Top 7 important trends of Korean Makeup based on some comments and forecasting by biggest cosmetics market leaders in Korea.
1.Glass & Gloss Will Be Everything In 2020
We're no stranger to glass skin and glossy lips (which was huge in 2019), but this year the Koreans are really taking the gloss up a notch.
While some of us are still obsessing over matte lipsticks, K-beauty has moved on to a glossy finish. And unlike some of the other Korean makeup trends we're loving, this one is especially quick and easy to try out for yourself.
To really get that glassy effect, apply a thick layer of clear lip gloss on top of your shiny lip color.
2.If There's One Shade You Must Have, Then It Is Brown Like Peanut Butter
Forget coral and pink shades. 2020 Korean makeup trend is all about peanut butter.
No, we're not talking about the spread you put on your toast – the brown color is forecasted to be one of the trendiest colors in 2020. The light shade of brown is described as an authentic color that displays natural sophistication and versatility.
Although the peanut butter is not the most exciting of colors to work with, we are still excited to play with a shade that is universally flattering and wearable on a daily basis – almost like the MLBB trend applied to the rest of the face!
3.Glitter Eyes Are Here To Stay, And Mascara Is The NEW Liner
Glittery eyes were all the rage in 2019, and it seems like matte eye shadow will be out of the picture for one more year.
Etude House explains that adding glitter to your eyelids helps to draw light to the eyes, and instantly makes it sparkle – perfectly in line with the K-beauty trend of glow and radiance.
If you are planning to stock up on your eyeliners, you might want to use that money to invest in good mascaras or eyelash extensions instead, because Korean women will be using less eyeliner (or even none of it!); instead, they will be using mascara that can help their eyes to pop.
4.Better Change Your Blusher Technique
If you are feeling dismayed that the new K-beauty trends will require a hefty vanity table revamp, here's the good news, you can still keep your current blusher stash.
Etude House shared that there will be a change in the technique rather than the color, where blushers are now applied above your cheekbones to give off a shy, demure look.
5.Gradient Lips Are NOT Must-To-Do Anymore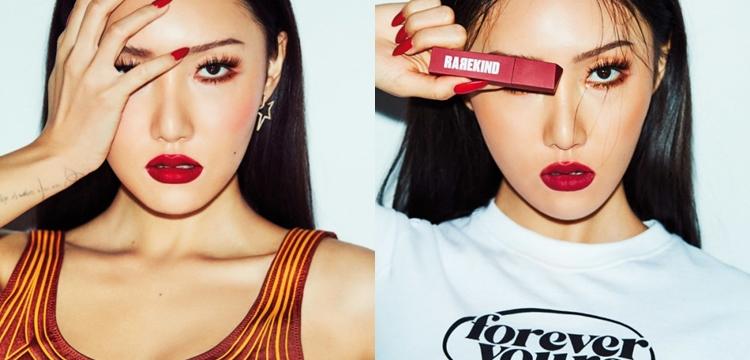 Gradient lips are well-known to be a staple of K-beauty, but both Etude House and HERA acknowledge that the full-on lipstick look is coming back in trend again.
More of the Korean women want thicker and bolder lips but they do not want to overline their lips using a lipstick – instead, they try to achieve the look of plumper lips with lipsticks that can create an actual instant plump effect, as well as a natural 'flush'.
6.Guess The Best Lip Colors To Invest In?
MLBB shades are still trending in Korea even after three years, and it looks like the trending isn't dying anytime soon.
According to LANEIGE, it started with keywords "MLBB" and "dried rose", which tended towards warm pink tones. Over the years, it has evolved into orange-reddish tones, especially after famous Korean celebrity Bae Suzy pulled off M.A.C's "Chilli" lipstick shade on a magazine cover:
As far as Korean lip makeup trend is concerned, the new keywords to look out for are "red", "brick", "chilli", and "burnt". These are brownish colours that make your lips look like they are burnt – in a good way.
7.K-BEAUTY Gurus To Watch In 2020
From left: Dasha Kim, Hyo Jin, Risabae, Pony
One of the biggest Korean cosmetic market leaders, HERA, recommends that you check out Korean Youtube beauty gurus like Hyojin, Dahyeshka (Dasha Kim), Risabae, and PONY. They are many Koreans' makeup inspiration as they try different makeup looks all the time while making sure to give out detailed information on makeup products and application.
While Risabae and PONY are famous for their over-the-top makeup looks, Dahyeshka and Hyojin tend to go for more of the daily makeup but they both know what works best for them.
On the K-pop front, LANEIGE believes that Hwasa, member of girl group Mamamoo, is the new girl crush icon whose heavy makeup looks are highly sought-after by Korean women – let's just say that we are absolutely sold by her #girlboss vibes as well.
---
Reference
https://dailyvanity.sg/news/korean-makeup-trends-2020
https://www.lorealparisusa.com/beauty-magazine/makeup/makeup-trends/korean-makeup.aspx
---
If you enjoyed Posting, Like and Share the Post and Subscribe My Blog!