Frankfurt Airport (FRA) is well prepared to deal with the outbreak of infectious diseases—fulfilling all recommendations of the health authorities responsible for FRA (the Frankfurt Health Department and the Hessian Ministry for Social Affairs). Currently, the authorities have not ordered health screening of passengers to be conducted at FRA. In cooperation with the relevant health authorities, we are providing targeted information for travelers via monitors in the terminals.
Passengers departing from FRA are strongly advised to contact their airline for information on the specific regulations regarding their flight and destination, before traveling to the airport.
Latest News
Germany has introduced travel restrictions for entries from outside the Schengen area on March 17, 2020. All corresponding entries from non-EU-citizens and citizens of non-Schengen states by plane or ship will be affected. Entry will be possible for German citizens.
Also EU-citzens and citizens of Great Britain, Iceland, Liechtenstein, Norway and Switzerland and their family members will be allowed to transit through Germany to reach their home countries. The same will apply for foreigners holding a residence permit in one of these countries. Other people may be rejected entry, if they cannot provide proof of urgent reasons for their entry.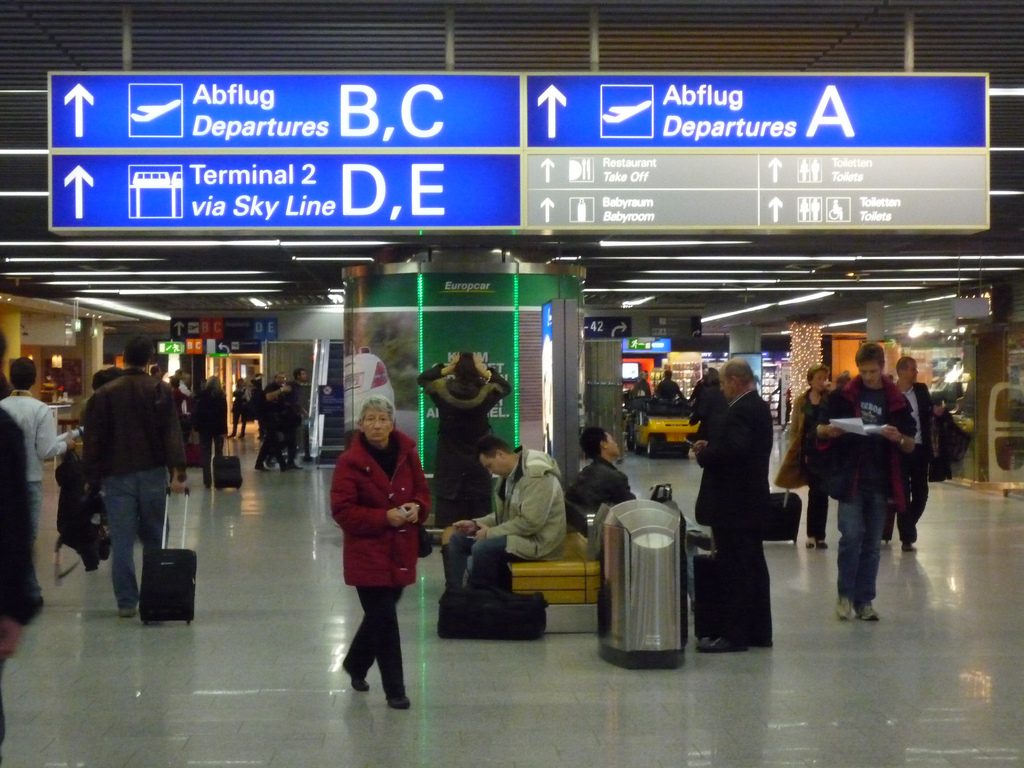 Federal Minister of the Interior Horst Seehofer has decided to temporarily reintroduce checks at the internal borders with Austria, Switzerland, France, Luxembourg and Denmark as an additional measure to contain the spread of the novel coronavirus.The checks will come into force on Monday, 16 March 2020 at 08:00. The cross-border flow of goods will continue to be permitted. Cross-border commuters will also continue to be allowed to enter and leave the country. People travelling for other reasons should expect restrictions on travel both into and out of Germany. Travellers with symptoms that may indicate a coronavirus infection will not be permitted to enter/leave Germany, in coordination with the authorities in the relevant neighbouring country. The Federal Ministry of the Interior is urging citizens to postpone all non-essential travel. Commuters are asked to provide proof that they need to cross the border for their work. The Federal Police has been asked to oversee the border checks.
(Source: Federal Foreign Office, Federal Ministry of the Interior, Building and Community)
Shopping and dining opportunities reduced
We apologize for the fact that we are currently unable to ensure the usual shopping and dining opportunities at Frankfurt Airport. The decisions made by the German federal and Hessian governments to combat the COVID-19 epidemic have required us to close most of the shops and reduce the hours of restaurants inside the terminals. However, food and beverages will be available enough of the time to meet basic needs. We are endeavoring to maintain at least this basic level of service. In the transit areas, their availability will be continually adjusted in response to the departures and arrivals that are still taking place.
Reduced Delivery Options of our online shop FRA-shopping.com
Until further notice it is no longer possible for you to reserve products. In addition, our delivery service is currently only available within Germand and for flights to other EU countries. We apologize for any inconvenience this may cause. You can continue to browse our product selection, however, and after logging in you can also place articles in your shopping basket.
Pharmacies Still Open
The Metropolitan Pharmacy has outlets at these locations:
Terminal 1, Shopping Boulevard, Level 2, open daily between 6:30 a.m. and 9 p.m.
Terminal 1, Pier Z, Level 4, open daily between 7 a.m. and 8 p.m.
Terminal 2, Shopping Plaza, Level 3, open daily between 7 a.m. and 8 p.m.
The Squaire, Marketplace, open daily between 7 a.m. and 9 p.m.
The Metropolitan Pharmacy also has an ordering service. You can submit orders by sending an Email to or using the free CallmyApo app for Android and iOS. The items can then be picked up at a selected location or delivered to your home anywhere in Europe without any restrictions.
You must show or send the original prescriptions before the medications can be sent or issued to you.
The MetCard entitles you to a 12% discount from the Metropolitan Pharmacy on all nonprescription drugs, cosmetics, body care and wellness products, and travel specials. This customer card is valid at all outlets and online.
Information of Flights of the Lufthansa Group
The Lufthansa Group continues to suspend flights to mainland China until 24 April 2020. This concerns flights to Beijing, Shanghai, Nanjing, Shenyang and Qingdao. In addition, flights on short- and medium-haul routes may be reduced by up to 25 per cent in the coming weeks.
Despite the new travel guidelines ordered by the US administration on passengers from the European Union, Switzerland and other countries, Lufthansa Group Airlines will continue to offer flights to the USA from Germany. The Lufthansa Group will continue operating flights from Frankfurt to Chicago and Newark (New York) beyond 14 March, thus maintaining at least some air traffic connections to the USA from Europe. The airlines are currently working on an alternative flight schedule for the USA. Passengers will still be able to reach all destinations within the USA via the U.S. hubs and connecting flights served by partner airline, United Airlines.
The Lufthansa Group will continue to serve all destinations in Canada until further notice.
The impact on the Lufthansa Group flight programme due to the recently changed entry regulations for India is currently being evaluated.
Lufthansa passengers planning a trip over the next few weeks are advised to check the status of the respective flight before embarking on their journey. Guests who have provided Lufthansa with their contact details will be informed if their flight is cancelled.
You can find more information at Lufthansa.com. 
Measures taken on board of aircraft arriving from risk areas
Passengers arriving in Germany from China, Hong Kong, Macau, South Korea, Japan, Iran and Italy are required to complete so-called passenger locator forms (PLFs) before leaving the aircraft, providing information on the flight and on where they can be contacted for for the next 30 days after arrival. The PLFs are handed out by the crew during the flight. The passenger locator cards are stored at the Frankfurt Health Department and may be used for contacting the respective passengers, if required.
---
Reference
Frankfurt airport official website
https://www.frankfurt-airport.com/en/news/information-on-the-coronavirus.html
---