'You only need a few products and a couple of spare minutes to look presentable while working from home.'
Here's the situation: You've been working from home for a couple of weeks now. You've got a big meeting on Zoom in about 10 minutes, and you're still in your wildly comfortable but totally ratty T-shirt and sweatpants. Your hair's disheveled (and not in a cute way) and you haven't so much as glanced at your makeup kit in days. Nevertheless, you want to look upbeat and professional, even when the entire world is operating in a different reality than it was back in February when this meeting was put on your calendar.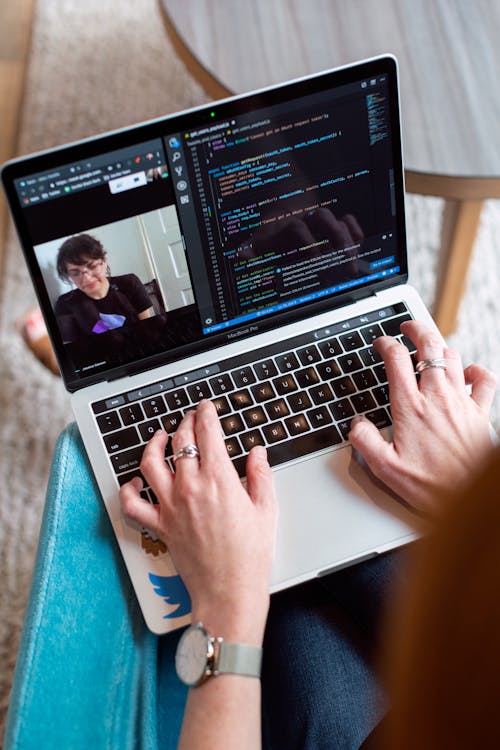 Many of us will be working from home, and therefore conducting business over video conferencing platforms, indefinitely due to the COVID-19 pandemic. Thankfully, it doesn't take that much effort to put together a polished makeup look when your coworkers are viewing you through a low-quality webcam.
We asked a few of our favorite makeup artists for their best tips and tricks for fast and easy makeup. As long as you have a few key products, your bosses will have no clue your makeup only took about five minutes. Or that you're secretly still in your pajamas.
---
Glowing Skin and Bright Lips
Now is the perfect time to play around with your facial dimensions. Her best advice for looking presentable on the fly is to focus less on covering skin imperfections and place emphasis on cheekbones, brows, and lips instead. Suggested go-to conference-call look requires prepping the skin first with a nourishing oil.
Putting an oil all over your skin is, first of all, a great barrier — but second of all, the kind of nourishment you get from oil will instantly give your skin this beaming quality without it being frosty, or highlight-y, or shimmery. If we're doing conference calls, we want to look good, but we don't want to look glamorous.
The added glow is just one benefit of prepping with skin oil, according to Baker. "I notice when I'm using it, I need less foundation because the foundation's mixing with the oil and I'm buffing it around to get this really luminous and lovely skin," she says. With this method, you should only need a few droplets of foundation and a few seconds to blend it out with a fluffy blush brush.
To prevent looking "flat" on camera, Baker then opts for a soft contour. "You can use contour to your best advantage right now because people aren't actually seeing you in person," she says. If you've ever wanted to try changing the angle of your jawline or sculpting your cheekbones into a whole new dimension, Baker says now is the best time to do so.
Surprisingly, Baker likes to skip eye looks while working from home, and not just because it's hard to see on a webcam. "If you're working for hours on end at home, wearing mascara feels like just another irritant to your day. Let's skip eyes altogether and just do a brow, a soft contour, and a lip… because those are the things that really read on camera."
A bold red lipstick is the biggest key factor for remote Zoom calls, Baker thinks. "Having a bold lip right now says to people: Business as usual," she explains. "I'm going for something that says I'm confident, I'm here, I'm awake, I'm happy, [and] I'm not afraid… Every time I put it on, I feel better."
A Flushed, Monochromatic Complexion
The speed and ease of a makeup look totally come down to a person's preferences and regular routine, but when a person is in a hurry, it relies on multitasking products to create monochromatic lips, cheeks, and eyes. Before doing anything, it makes sure that's got some natural light where she's applying her makeup.
It begins by spritzing its face with a hydrating face mist. I would only mist the sides of my face, not the front, just to get the shine going on the high points of my face and not the T-zone.
And then I would only put concealer in all the spots that I need it. To create a little dimension on face, it mostly applies it in the center, around eyes, lips, and eyebrows. To blend that concealer out, we use brushes but encourages us to use whatever tool you know you can work quickly with, whether that's a brush, sponge, or fingers.
Brow gel and mascara polish off her favorite for last-minute meetings, but not before we reaches for our go-to product for cutting down on time: Tower 28's BeachPlease Tinted Lip + Cheek Balm. You can just throw one on and it looks really, really nice.
One-Step Eye Looks
New York City-based makeup artist Tommy also says that everyone's fastest and easiest makeup look will differ from person to person based on preferences and makeup habits. "My philosophy to 'minute makeup' is to make a system," he says. "Just keep it simple and cut corners where possible."
Even when he's not required to work remotely, Tommy makes sure to stick to a good skin-care routine so that if he's strapped for time, he can focus on applying makeup to the eyes, cheeks, and lips rather than relying on a time-consuming base routine. To conceal dark circles and other imperfections, he swipes on YSL Beauté Touche Eclat concealer but lets it dry down a little before blending it out.

Related Post
Most liquid concealers build beautiful coverage this way, and it's my quick trick for people who waste precious minutes bouncing a wet Beauty blender around.
While he's waiting for that concealer to dry down, he moves on to the lips and cheeks using products in stick or pot form because they're faster to apply and blend. Nars's The Multiple and Fenty Beauty Match Stix are both great.
A high-impact eye can also be achieved on the fly, Tommy says, if you've got the right kinds of products. "Twist-up or sharpenable stick waterproof eye shadows are a go-to for applying and blending with fingers and not having to think about as the day wears on," he explains.
---
Reference
https://www.allure.com/story/fast-easy-makeup-looks-for-zoom-meetings
---
If you enjoyed the post, your likes, shares and subscribes would be appreciated!