Drawing lines might not sound like rocket science, but it's damn difficult to do well around your eyes. I mean, drawing a thin line without blinking, twitching your hand, or poking yourself?
That requires artistic merit. From smudging and mismatched wings to shaky hands, mishaps are bound to happen, especially if you're guilty of having poor hand-eye coordination.
I brought Tips of Celebrity Makeup Artist Geo Brian Hennings to break down the easiest liquid eyeliner application method, step by step. You'll have a powerful, unstoppable line in no time–except, perhaps, by a good makeup remover.
1. Start with a clean base
Make sure that none of last night's makeup is still lingering around the eye area by thoroughly cleansing with makeup remover. You will use Remover Cleansing towel or tissue type.
2. Prime your lids
Once you have a clean canvas, apply an eye shadow primer or concealer with your ring finger (your ring finger has the softest touch) to cover up any veins or dark marks. This will also help your liner last longer.
3. Start by drawing a dot in the middle of the lash line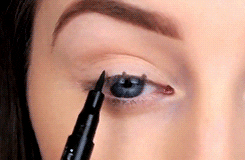 "Connect the dots is my foolproof method!" says Hennings. Draw a dot in the middle of your lash line as close to the eye as possible. The size of the dot should be equal to the thickness of your desired line.
4. Apply dots to the inner corner and tail
The innermost dot should be placed where you wish your line to begin, and outermost where you wish it to end. Use the angle of your lower lash line as a guide for where to place your flick.
5. Connect the dots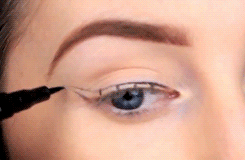 While keeping your elbow rested on a still surface (to avoid shaky hands), gently connect the dots together. To create a smooth line, use your finger to make the skin around your eye taut, but don't tug. "The number one thing to avoid is pulling the eye up or down as you apply," advises Hennings. "This creates a high tail or a droopy pulled-down one." Instead, look down so your lids are half-closed but you can still see them in the mirror.
6. Clean up the mess if needed
After filling in any patches, repeat the process on the other eye. If one (or both) of your lines came out too thick, take some of the liner away with a Q-tip dipped in an oil-based makeup remover. Gently wipe off the excess for a flawless, crisp edge.
And of course, using the right tool makes a huge difference! Check out top picks from beauty experts as below.
For your information, for me, Those recommendation is not based on affiliate programs of certain beauty brands which means it is NOT sponsored nor paid advertisements.
Free to have a look at those products, if you already have your favorite beauty products or brands, sure thing, you can use what you already got!


The Best Products for Creating the Perfect Line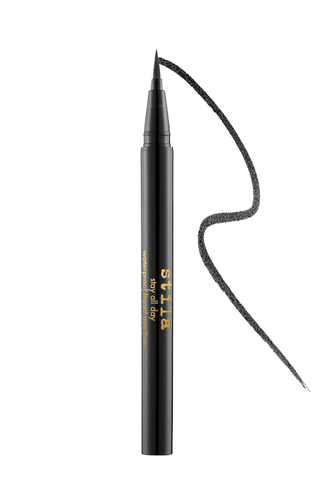 Stay All Day® Waterproof Liquid Eye Liner
stila
sephora.com
$22.00
This cult favorite should be a staple in any eyeliner arsenal. From thin strokes to intense wings, this waterproof pen will get you there.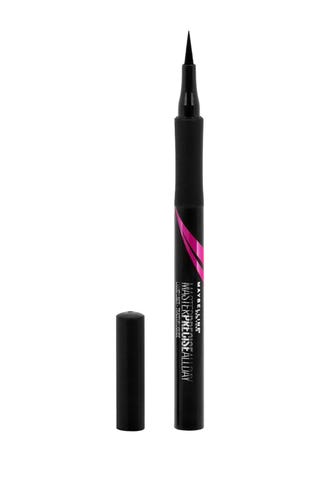 Eyestudio Master Precise All Day Liquid Eyeliner
Maybelline New York
amazon.com
$9.00
Maybelline's classic liners are super pigmented and delivers a bold line in just one stroke.
Tarteist Double Take Eyeliner
tarte
sephora.com
$24.00
With an eyeliner pen on one side and pencil liner on the other, this is the ultimate lazy-girl tool for defining your eyes, stat.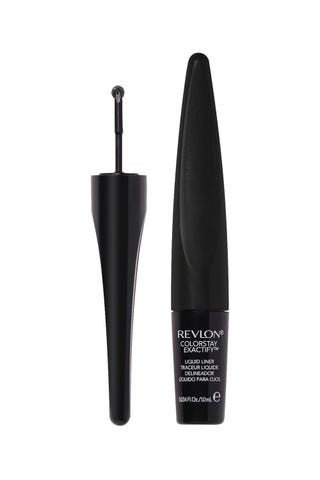 ColorStay Exactify Liquid Liner
Revlon
ulta.com
$8.39
This liner boasts a rolling tip that flawlessly glides across your eyes for a precise, ultra-defined finish. Think of a pizza wheel cutter, but less sharp.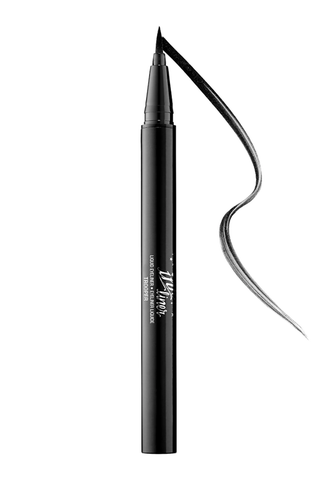 Ink Liner
Kat Von D
sephora.com
$21.00
If you're looking for a liner that will last, this is it. Whether you go through sweat, tears, or a freaking monsoon, it'll stay put no matter what.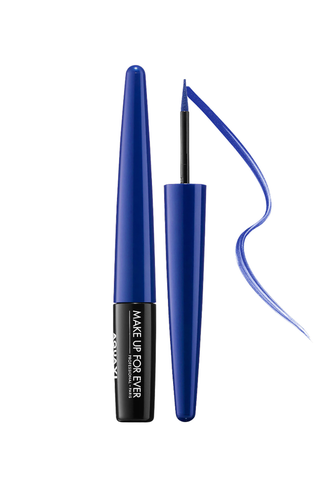 Aqua XL Ink Eye Liner
MAKE UP FOR EVER
sephora.com
$24.00
Inject some color into your routine with Makeup Forever's electric liners. A neutral eye paired with one of these bright shades is sure to turn heads.
---
Reference
https://www.marieclaire.com/beauty/a28401898/how-to-apply-liquid-eyeliner/
*All gif from GIPHY
---
If you enjoyed the post, give me likes, shares and subscribes!